Research Methodology Series: Issue 4 Hypothesis Testing a Basic Introduction
SNJ Research News & Information June 27, 2016: Tis the Season: Ticks and Lyme Disease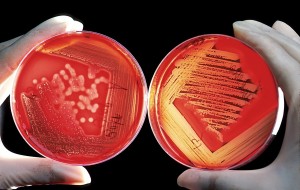 EXPERTS CONCERNED OVER ANTIBIOTIC RESISTANCE CASES OF INFECTION 
Recently, researchers and clinicians have stated there is a new urgency in combating antibiotic resistance and treating infections caused by superbugs. Infections that are very difficult to treat because they are resistant to the currently available antibiotic options can become life-threatening when those options do not work to clear up an infection. One particular antibiotic named colistin, which is a special type of antibiotic is not used often because the side effects caused by colistin are very serious. Colistin is considered the last option for treatment.
Doctors have discovered that a bacteria (MCR-1 gene ), which was found last fall in China was also recently identified in a woman with a urinary tract infection in Pennsylvania, USA. This MCR-1 bacteria shows antibiotic resistance to antibiotics including colistin. The mere fact this resistant superbug exists is not the cause for alarm.
The issue is a characteristic of this particular superbug. This bug is much more likely than other superbugs to help  increase the development of completely new strains of superbugs. "These things have gone from being nowhere to being here in a little over 6 months", Dr. W Hanage Associate Professor Epidemiology, Harvard T. H. Chan School of Public Health, Harvard University  from [Harvard Chan, This Week in Health: Segment 1. 3 June 2016.]
There is no reason to take an alarmist attitude about recent developments, rather we must acknowledge the present and growing risk of antibiotic-resistance among superbugs. We are going to see new emerging types of superbugs. The situation is a reminder, a call, a plea for action to continue to increase our resources, clinical training and research into antibiotic resistance superbug infections and best practice use of antibiotic treatments.
For more information on this developing story please follow the links provided. SNJ will continue to post updates as they become available.
Update: June 9th, 2016:
SNJ, wanted to share a great article that gives more details about MRC-1 so we are providing an update to our original article today. "The gene mcr-1 was found first in pigs and people in China and then spread across Asia and Europe. By March, there were even more reports from France, Switzerland, Malaysia, Brazil and Argentina." 'Behind the scenes of a US superbug discovery that make headlines around the world'