SNJ Research News & Information Feb. 15, 2016: Chronic Pain May Require a Whole Team & Benefits of Red Raspberries
SNJ Research News & Information Feb. 22, 2016: Medical Technology Week: Liquid Biopsy and Secure Healthcare Team Communication in the ER
Literature Review: A How-To Part 1 ~ Before the Search
This week's post discusses a literature review, the process of systematically looking at the research information available across a topic you are interested in reviewing. We must warn our readers that the topic is quite long. We decided to divide it into two parts. This particular post will examine a literature review from an overall perspective and suggest some crucial to-do's as preparation before you begin searching and writing. Next week in part two, we will cover the distinct steps to perform and complete your literature review. To start let's discuss a good working definition of a literature review and what to do now even before you start searching.
A Systematic Literature Review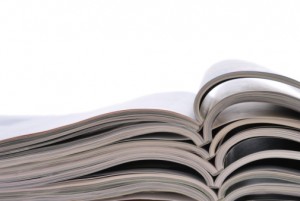 Using a systematic approach, you will create a summary that is comprehensive, accurate and current about your topic of interest. One goal of a literature review is to have an overall understanding and grasp of the topic. A literature review combines many research studies, organizes findings or results and summarizes the topic. The entire process relates to your research question, research objective(s) or educational assignment.  A literature review does not have to be a difficult process so don't be intimidated; however, it can turn into a nightmare if you are not organized from the beginning and keep very meticulous notes.
Housekeeping Points
Please note, when we refer to the research question in our discussion about a literature review, we also mean a research objective. A literature review and the research question go hand-in-hand when doing research and we briefly mentioned literature reviews in a previous post, if you would like to get caught up please read Creating and Editing a Research Question.
Also, a literature review can include a meta-analysis. A meta-analysis is a statistical review of the data across studies that produces an overall estimate of the data, we will not cover literature reviews that incorporate a meta-analysis in this post. At this stage however, it is good to know that a meta-analysis is a very specific statistical review as to not confuse it with any other components of a literature review.
Scope, Databases, and Referencing Style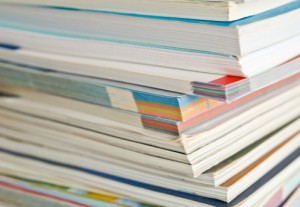 Think of a literature review as a process that will turn you into a mini-expert on a research topic. Initially, your aim is to understand and become familiar with your topic in an overall sense. Then you drill down to the specifics that relate to your research question or objective. Begin your literature review by performing a basic or exploratory review.
One of the first decisions you must make about your literature review is about the scope of your review? How much information will it include? Are you going to use only peer-reviewed articles published in academic journals? Or, will you incorporate the 'grey' literature or resources? What the heck is grey (gray) literature?
The collection of grey literature are articles, reports and study/project findings that are published outside the commercial publishing entities. For example, in government or business sectors, there are many reports that may cover your topic area but are not necessarily published in academic peer-reviewed journals and/or reference texts. Western University, London, Canada provides an excellent short video on the definition of grey literature. We highly encourage you to take a few minutes to review the video to help you decide and think about including the grey literature.
There are a number of academic databases such as PubMed you may use to review your topic. For everyone affiliated with an institution, you will have your own credentials for access. For those of you, who need research information from the public domain to complete your literature review, SNJ Associates has provided some resources that are available to everyone. To read more about open access journals and publications visit our Journal Articles  page and read about open-access publications.
A very important piece of advice this author was given as a graduate school student was to always state very clearly what you are not going to do. This relates well to a literature review. For example, you may know from the outset that you are not going to include publications older than say 5 or even 10 years. The  exception is any landmark articles, which make up the foundation of the research about your topic. Those sentinel articles should always be included. Also, you will have other search parameters that you will purposely decide not to include, make sure you keep track of those decisions.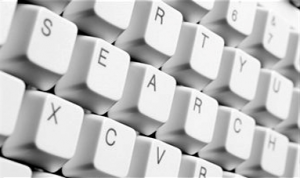 At this stage, you must know what type of referencing style you are going to use, American Psychology Association (APA), Modern Language Associates (MLA), Chicago-Style or other. If you are completing a literature review as part of an educational assignment, check the project requirements and/or with your instructor about the preferred style of bibliographic referencing. If you are part of a research team, ensure you are aware of the team's preferences or any funding application requirements. Start from the beginning making your notes and collecting all the necessary information to ensure you are able to meet the referencing requirements for your review from beginning. This will save you time.
Finally, the last piece to get started is to consider the stratification of your population of study. Stratification is where your focus of individuals is 'stratified' or divided based on particular characteristics. For example, you may be interested in female patients only or patients, who are over the age of 65 years. It is important to tailor your literature review to match your project parameters.
New research information is added to our topics every day so do not attempt to include everything. Your goal is to define your scope well and be thorough in your literature review. Before you have finalized the list below, it may be a good idea to use Google Alerts with your details. Google Alerts helps you automatically monitor the Internet for new content according to your specifics. You will not necessarily use a lot of the information returned in the summary of your literature review; however, it will give you a sense of what is out there on your topic and there are always a few gems. Importantly, you will stay up-to-date on what is happening in your topic area. This is very helpful if you topic is one that you will continue to follow in the future. Databases also have options to automatically keep up to date with what is being published in your topic area. This is a very good strategy at the beginning of a graduate thesis or for a research team focused on one main topic.
Notes, Lists, and References!!!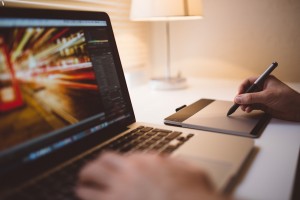 In completing or helping many clients with literature reviews, SNJ Associates always spends the most time on the notes, lists, and references part of the process with their clients. Initially, it appears simple enough to keep notes and lists. You may be asking "what is the big deal"?
The issue is before you even get started, you need to plan because if your notes, lists, and references are done well, you will save time and have a better review in the end. You would be amazed at the countless hours you can incur going back to find references you didn't have a good record of or losing track of the 3 authors that stated further research on a specific question in your topic area is required! You know you read about it somewhere but you simply cannot find the sources nor, are you able to recall search parameters to pull up the information again – just infuriating.
It will appear obvious as you proceed through your literature review that you will remember details and locations of articles you find or studies that were done. DO NOT trust this feeling! One, because it will not work over time and two, if you try our advice, we are confident it will remove some of the pain and frustration associated with completing a literature review.
We all have our own preferences of how we like to go about our tasks. Some people use all the latest technology and zip along the information highway clipping, storing and correlating their online information with software and good computer skills. Others prefer pen and paper. Yes, a few of us dinosaurs have brains that are on auto-pilot and reach for an index card. In the end, it makes no difference as we all end up with a finished review. The important point is for you choose to keep your notes, lists, and resources in whatever way you are comfortable as it makes the most sense to use your time effectively.
Once you complete your list of to-do's below, choose a topic (preferably not your own) and find 2 or 3 literature reviews. Read them through from beginning to end and identify the parameters used along with getting a sense of how the final report is put together. By using a different topic for this specific task, you will focus on the literature review itself versus the details of information.
OK, we're going to stop here. I know there are many of you who will find this irritating because you just want the steps to get done. We totally understand. You have a number of things to do now and we've listed them for you below. The next post will go through each step in completing a literature review. If you complete the list below first, you will have a much more pleasant experience completing your review and you'll be able to jump right in for part 2.
To-Do Now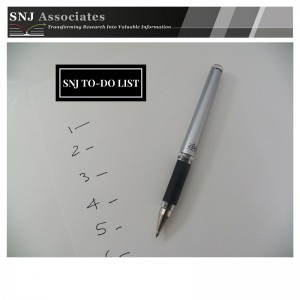 ο Clarify research question (or research objective) associated with your literature review
ο Decide on peer-review publications only OR also including grey literature
ο List out databases going to search
ο Review literature available through open-access and choose 3 literature reviews to examine
ο Organize access to literature that requires login credentials, if necessary
ο List out parameters of your search (years, language, study population characteristics and all components of your research question)
ο Keep a list of all the parameters you're not going to cover (e.g. non-English publications)
ο Choose bibliographic referencing style (APA, MLA etc.)