SNJ Research News & Information Feb. 22, 2016: Medical Technology Week: Liquid Biopsy and Secure Healthcare Team Communication in the ER
SNJ Research News & Information Feb. 29, 2016: What is the Conversation About Sugar-Tax?
Literature Reviews: A How-To Part 2 Step by Step
This week's post is Part 2 in our topic of literature reviews. Part 2 is a 6 Step process for completing literature reviews and will help you break down the process so you can effectively work away without being too overwhelmed. We decided to divide this topic into two parts.
Part 1 examined a literature review from an overall perspective and suggested some crucial to-dos as preparation before you begin searching and writing. If you have not read Part 1 nor looked at the suggested list to do before moving to Part 2, we highly recommend you go back now and get caught up.
As you begin the steps for your literature review, go to one of the resources and search any topic other than your own to find one or two examples of a completed literature review. Use the selected examples to read through each one and get the feel of a final report. Save these examples for later.
Literature Reviews in 6 Steps
The Research Question/Objective
The Scope of Resources Used in Literature Reviews
The Search Strategy
Eligibility Criteria and Levels of Evidence
Performing the Review
Summary of Review & Final Report
1/
The Research Question/Objective
Literature reviews are completed in a context and you will have the information to complete the table below from Part 1. By listing all the parameters and necessary items you need to include, you will be ready to go and not become distracted with all the decisions and pieces of information you need before you even begin searching your sources.
If you are completing a literature review as part of course work, the assigned objectives are often set out for you in the description of your assignment, i.e., your literature review must include specific database sources and/or cover a specific time frame. Use your context as pieces of information to organize the parameters of your literature review.
Your research question or objectives are investigating a problem or answering a question, possibly proposing an intervention and examining particular outcomes in your area of a research topic. Always stay focused on what you are investigating, what has been done before, what other researchers have concluded and what specific items are recommended for further investigation. Be sure to keep track of research that disagrees with your 'hypothesis' as it is important to present all perspectives in your final report.
Table: 1.1: List of Parameters to Include in Literature Review
| | | |
| --- | --- | --- |
| Topic Area | Study Population | Academic and/or Grey Literature |
| Research Question (or Objective) | Number of Sources Required | Other Requirements |
| Statement of Purpose | Required Bibliographic Reference Style | – |
| Years to Include | Language(s) | – |
***Note: This is the to-do list from Part 1
Finally, decide and state clearly what you are not covering in your review. For example, if you only read English then restrict your searches to English only results. If you are comfortable using translation software this restriction may not be necessary; however, be cautious if you are referencing articles in a language you are not well-versed in as there are limitations with translation software. If your topic is specific to a certain population (often referred to as stratification) such a women, children, or patients with a stage 4 cancer be sure to include all the details in your table of parameters.
2/
The Scope of Resources Used in the Literature Review
The scope of a literature review depends on how formal your literature review is and the reason you are completing the task. For example, a university student completing a literature review for a coursework assignment is different than that of a research team preparing a review as part of applying for federal government funding. However, all literature reviews require credible resources. Below is a list of sources to consider and will help you to get started, again if there are specific requirements from an instructor or team make sure they are included in the Table 1.1 list so you stay focused.
In no way is the list of resources we provide an exhaustive list of literature resources; however, it will provide an excellent start for a literature review and depending on the scope is also a well-balanced cross-section of information. For the purpose of demonstration, the assumption is you are focused on literature in health sciences.
There is a combination of free and paid access resources included in the suggested list below. If you are having trouble accessing paid services (such as trying to get individual full-text articles from PubMed) a tip is to visit your local library. Many libraries offer access to various databases with a library membership, which is often free or has a minimal charge. Also, many libraries provide remote access, so you will not necessarily have to visit the library in person to work on your literature review. Also, do not hesitate to contact the first or lead author for information. SNJ Associates has often found it very helpful to contact the author of an article or report as many are willing to share a copy.
If you are incorporating the grey literature,  search government listings at various levels as there is a wealth of information available and often summarized very well with bibliographies that can be very helpful. Recall that grey literature includes articles and reports published outside academic journals and in Part 1 we provided an excellent video that describes what the grey literature is and how to search it online.
One last note before we move on to step 3, it is very important that you critique and use references or sources found online very carefully. A tip is to run a reference you find online through one of the databases such as Google Scholar to see if it comes up. The mantra is 'Examine Your Sources'.
Specific Resources for Literature Reviews To Get You Started:
*Do not be concerned if an article shows up in more than one source, this is a good sign that you are being thorough in your review.
As you select and choose your sources make a list titled: Databases & Sources Used in Literature Review
Table: 1.2: Databases & Sources Used in Literature Review
| | | | |
| --- | --- | --- | --- |
| Item | Database | Dates Included | Software Used to Access |
| 1 | Cochrane Review | 2006-2016 | Open Access |
| 2 | PubMed | 2006-2016 | Ovid |
| 3 | Chrome Browser | Google Scholar | Enter Access Date(s) |
When you have completed your literature review, your final report will include a summary paragraph about the databases and resources you used something like this:
Example Paragraph of Resources Used in Literature Review:
The literature reviewed included a search of PubMed and Ovid for the years 1966-2016. Also references from Cochrane Review for the same years through the open access portal were included. Finally, all search terms were searched on Google Scholar between January 17 and February 4, 2016.
3/
The Search Strategy
Again in step three, you will use your context. Take your research question or objective and make a list of your keywords. Also, run your keywords through software to ensure you have a list of all synonyms.
If you're able and more so willing, take the time to understand how the databases you are using treat keywords. For example, in PubMed, you can use the MeSH headings information to find out how your topic is indexed. This may sound daunting but there are excellent online how-to articles and videos. Start here by entering your primary keyword for your topic and see notes and information regarding 'Entry Term'.
Understanding your keywords is well worth the time and we guarantee it will save you backtracking days into your search when you realize an important keyword is missing but required and you must repeat work that you have already done to include missing keywords.
Searching your keywords is a very precise process to ensure you search them across resources in a consistent manner. We highly suggest you take the 2 minutes to review a video by NYU on the topic of Boolean parameters using PubMed as the resource, it could save you hours.
As you select and choose your keywords make a list titled: Keywords Used in Literature Review
Table 1.3: Keywords Used in Literature Review
| | | | |
| --- | --- | --- | --- |
| Item | Keyword | Plural Version, if applicable | Synonyms/Other Versions |
| 1 | Hemochromatosis | non-applicable | Familial Hemochromatosis |
| 2 | Adolescent | Adolescents | Teenager |
| | | | Youth |
| 3 | Female | Women | Girl(s) |
4/
Eligibility Criteria and Levels of Evidence
Search all of your keywords systematically in exactly the same way for each resource in Table 1.2 collecting articles and reports as you go based on your parameters. As you collect the articles, reports, and other material from your searches, you will quickly have a large list of all possible articles and reports to include in your review.
We suggest keeping references you find as you go without trying to do the inclusion/exclusion of any one article or report on the fly. You will have ample opportunity to discard any unwanted literature and that is much easier than going back trying to find a reference later that you initially tossed but later decide to include.
A necessary part of any literature review is to decide what you are keeping and what you are excluding from the final list. A statement regarding the Inclusion/Exclusion Criteria decision is necessary for the final summary. We suggest you identify the type of evidence for each article you pull for consideration [See Levels of Evidence]. This information can be recorded in the notes section of Table 1.4 below.
By identifying the level of each possible piece of evidence, you will see which articles fit your inclusion criteria. Also, when you progress to the synthesizing part of the literature review, you will have a much easier time comparing and contrasting studies that are at the same level along with summarizing quickly.
Refer back to your parameters from step one, ensure you are only including evidence pertinent to your topic. For example, below the statement of eligibility for our literature review requires that we only include randomized control trial (RCT) studies and systematic reviews (such as those found in the Cochrane Review database), which had a placebo group in the study design.
Example of Eligibility Inclusion Statement:
Articles were considered if they were either RCTs or systematic reviews that looked specifically at pain relief for patients having had knee replacement surgery. Studies that compared the newer, long-acting, pain relief drugs (list out pharmacological names of drugs reviewed) with placebo. Table X.X provides information on the 27 studies selected for inclusion in the review. Studies completed that were not controlled trials were not included in the review. Also, studies that compared two different types of pain medications were not included unless there was also a placebo comparison done as part of the research.
5/
Performing the Review
At this stage of the literature review, it is important to put together a final list of all resources that are eligible for the review while simultaneously noting what was excluded. It is recommended that before beginning to review the final list, one more check is done to ensure there are no missing resources, keywords, or specific articles/reports depending on your scope. Next, create the final list of eligible resources and begin to critically review your list of literature.
In the most purist sense, this step may be completed by more than one person on a research team. Reviewers are often 'blind' or do not know who the author is for each resource nor where the resource was published. This process can ensure that there was no bias introduced into the assessment of each resource. However, often literature reviews are completed by one person. Begin by reviewing each piece of literature individually. We recommend a table where you enter the most pertinent information for each piece.
Suggested headings for Table 1.4 include:
Item Number (01-xx)
Date of Publication (or Access online)
Primary Author
Title
Methodology
Outcomes Studied
Data Collection Notes
Statistical Analysis Notes
Results
Conclusion
Future Recommendations
Specific Characteristics of Study
General Notes
*Note: Mark your printed or electronic copy with the item number from the table you create AND use the number in your file name when saving electronic copies of your articles and reports. You will see many examples of this step using the first author's last name and we discourage against this practice. You will be able to find and sort your articles much better by item number as it is difficult to recall author names until you really get to know the details of your review. This step will also prove very helpful when you want to group your articles for the final step and synthesize the information.
6/
Summary of the Review and Final Report
During the final stage of your literature review, you will pull together all the information from each step using all your notes, lists, and resources. Remember, literature reviews are NOT simply a list of each article or report. Rather, literature reviews are a cohesive summary of a well-defined topic. It is important to have summaries of  both the keywords used and a clear statement of how pieces of information were eligible for consideration (along with what was excluded and why).  Be sure to summarize the findings from all your literature and clearly state how it relates back to your research question/objective. Finally, the final report will include any anomalies or issues you found in your critique. Use the checklist below as a guide of what to include in the final report.
Before you begin to write your final report go back to the literature review examples you looked at during the beginning of this process. Using a printed copy, divide the example review into the sections we've identified here so you can see how other researchers have organized the presentation of information, included relevant sections such as the descriptions of their scope, search strategy, and eligibility. We suggest writing each section separately in order to break down the task and then once you have a draft of the major sections to work with, you may begin putting it all together.
Checklist of Final Step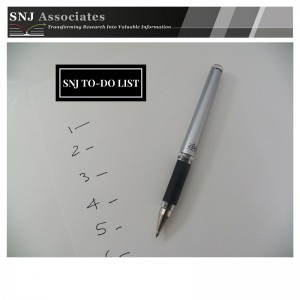 Note similarities and differences among research studies
Identify any major developments or contrasting perspective(s) in the topic area
Critique all resources included and highlight most relevant to your research question [objective]
Compare methodologies
Summarize clearly how the literature relates specifically to your research question [objective] and/or hypothesis
Check and double check your bibliography to ensure it meets the style criteria you've chosen
How Do You Know When Your Literature Review Is Complete?
The short answer to the question: How do you know when your literature review is complete? The answer is 'Never'! Well, that is not exactly true. If you have an appropriate time frame covered in your review and you've incorporated a well-defined variation of databases along with other resources, you will have an overall grasp of what is known about your topic to date. Furthermore, you will understand and have notes with selected references regarding relevant issues related to your topic. Make sure your summary includes dependable and credible theories and valid evidence that is associated with your topic.
In Closing
Give yourself ample time for the final report. If you are able to leave time between drafts you will create the ability to synthesize the information versus just trying to pump out a final report. Importantly, allowing dedicated time for edits that are only for grammar, spelling, and sentence structure versus content will result in a much better final review.
We have often seen literature reviews that contain all the necessary pieces and are well researched; however, the final report is rife with mistakes and lacks clarity thus, the final report does not represent the hard work and very valuable information that was collected and critiqued.